The Silas Lane Trail, the first section of the Oneonta Susquehanna Greenway to be completed, forms a 2-mile loop in the west end of Oneonta. It follows the river and wends through fields and past a swampy area.
This pavilion, (top right) at the Silas Lane trail was completed in 2006. The pavilion provides a resting spot for hikers, a picnic area for trail users, and a location for classroom instruction for the school groups that use the trail. No reservations are necessary.
Access to the Silas Lane Trail: From I-88, take Exit 13. Turn towards the mountains rather than the city, then take a right onto Silas Lane. Access the trail from either the official OSG parking lot (on the right) or the soccer field parking lot, near the end of the road.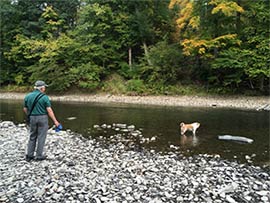 Many people have found the Greenway to be a wonderful place to exercise their 4–legged friends.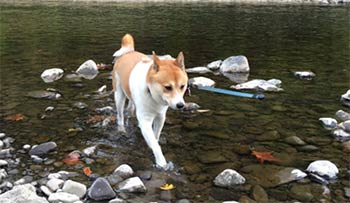 Owners are encouraged to keep dogs on leashes, and clean up after pets.