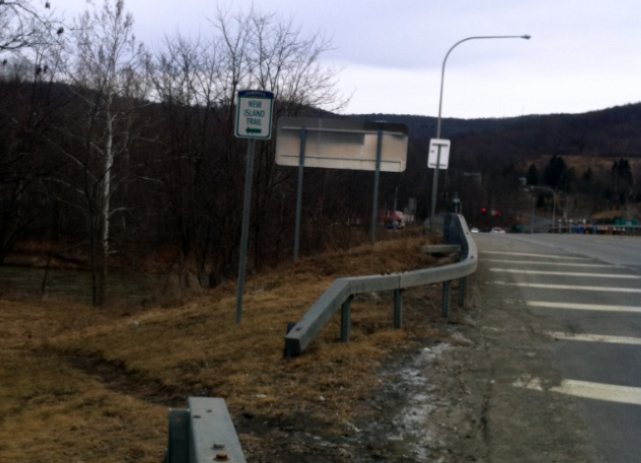 Access to New Island:
Park in Catella Park (accessed from Neawha Park). Walk or bike along the fence toward the highway. At the corner you'll see a gate, a sign to New Island, and a path to Lettis Highway.
A short walk along the highway under I-88 and past the entrance ramp gets you to another sign next to a break in the guard rail, where you'll see a path. The path winds around a bit, through a field, and eventually comes to an old railroad bed.
Near the South Side dam you'll come to a spot that almost always has water in it. If it's impassable, look for a trail to the left. That trail, which is much drier, will loop around to bring you back to the main trail.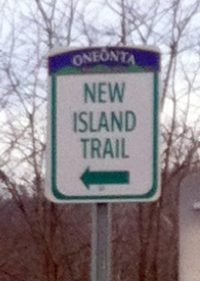 History of New Island
The Susquehanna River has been a source of water for consumption, agriculture, recreation, and energy. In 1898, an area of land named Big Island was surrounded by water when Electric Lake was created to produce electricity. When Oneonta acquired the land in 1984, it was renamed New Island in honor of Dr. John New, environmentalist and former professor at SUNY Oneonta.
The lake has long since been drained, so New Island is no longer surrounded by water. It is, however, still an island of sorts, cut off from vehicular access, and only legally accessible by foot or bike.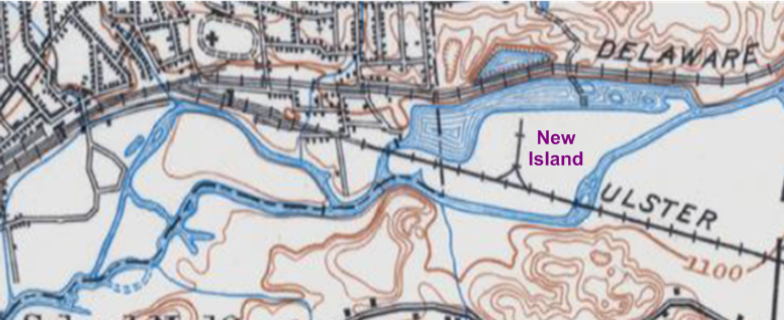 New Island area circa 1915 USGS Topographic Map